Director of Operations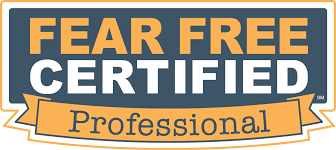 Growing up on the east side of Cincinnati, Jaimee found her way into the veterinary world by chance. She always had a love for animals but it wasn't until she adopted her first personal dog, a big beautiful bullmastiff named Milo, that she found her passion for animals.
In 2012, she was working towards her Bachelor's degree in Urban Planning at the University of Cincinnati's DAAP program. In 2014, she moved into an apartment that was behind Deer Park Veterinary Hospital. While walking Milo, the owner of the hospital asked if she would be interested in a position as a Customer Service Representative. Jaimee eventually grew into a cross-trained employee working as a both CSR and as a Veterinary Assistant. This experience opened her eyes to the veterinary world and the many different career opportunities within.
She switched majors and began preparing for a leadership role within the veterinary world. Jaimee graduated from the University of Cincinnati with a degree in Organizational Leadership and a minor in Human Resources in 2017. She has been at Deer Park Veterinary Hospital since 2015 and was promoted to become the Practice Manager in 2019.
She is a Certified Fear Free Professional and a member of the Society of Human Resources Management and the Veterinary Hospital Managers Association. As a new manager navigating uncharted territory in 2020, Jaimee became an expert at creative problem-solving and team management. Her main passion in life is creating a healthy stress-free environment for both animals and the humans who work with them. In her own words, "Our industry is plagued with labor shortages, educational pitfalls, high prices, corporate buyouts, toxic work environments, inconsistent state laws, and unfortunately, many more issues. I believe the time for change is now! This is the generation of veterinary professionals who are finally going to give the veterinary profession the recognition it deserves."
In 2022, she was promoted to Director of Operations. In this role, she oversees both Deer Park Veterinary Hospital and it's sister practice in Houston, Texas. She currently live in Northern Kentucky with her fiance, Corey, their dog Milo and two cats, Lando and Eva. They recently just bought their first house and are getting married on 11.11.23 which serendipitously is Milo's eleventh birthday!
---