Licensed Veterinary Technician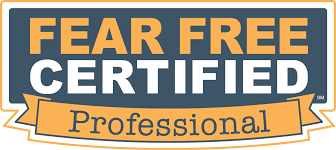 Catherine was born and raised in Norwalk, Ohio and knew from a very early age that there wasn't anything else that she wanted to do with her life - knowing that this profession is her passion and her calling. She always had several childhood pets growing up and whenever one of them would get sick, she would do anything she could to help them feel better. It is from these personal experiences that Catherine can empathize with clients, knowing just how stressful and painful it can be when a furbaby is sick. She aims to ease those feelings by providing the best possible care and service, not only to the patients, but the owners as well.
Catherine started her education at The Ohio State University for a year before transferring to the University of Cincinnati Blue Ash, graduating in 2019 with her Associate of Applied Science in Veterinary Technology. She started as a Licensed Veterinary Technician at Deer Park Veterinary Hospital in 2019, shortly after graduation. In addition to her RVT certification, she is also Fear Free certified and working towards her certification in Animal CPR.
Her areas of interest (and passion) include exotics, such as reptiles and small animals, and behavior.
Her motivation to get through the day is iced coffee and her coworkers. She has 3 cuddly dogs at home and various reptiles including over 30 pythons that she breeds.
---